The transfigured Startup and revolutionary phases of many technology and Internet companies go without a doubt slowly to the end. Companies, from Microsoft, mySpace on Facebook and Google, and Apple currently, get this feeling. It turns out that many business leaders have not prepared for these times.
Apple was for many years the underdog and thus the good David, who went into battle against the all-powerful Goliath of Microsoft. Like no other, Steve Jobs is a manager of the technological vision, is with an understanding of the needs of users and successful marketing strategies.
Like the Facebook CEO Mark Zuckerberg with his assessment of " the times of privacy are over , "Steve Jobs has become evident that his statements will not always achieve only positive effects. They show these entrepreneurs - although they could celebrate your great successes with social media, Viral Marketing and the end customer loyalty - an astonishing amount of naivete even as she storms Twitter or PR meltdown can trigger.
Currently Apple is particularly because its main supplier Foxconn in the criticism. This produces in Shengzen in China iPod, iPhone and the new iPad. After several lives were lost due to suicide, not just Foxconn, but just even Apple has been criticized. While the initial Californian company a study initiated, Foxconn has also worked with multiple wage increases responding .
Again, it was Steve Jobs, who even enlarged the problem only right because one interview was on the D8 Conference "All Things Digital" on the subject. With the reference to existing restaurants and swimming pools on the factory premises Steve Jobs said, among other
For a factory, it's pretty nice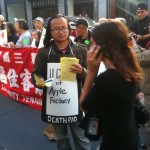 One of the consequences which followed from this statement, were rich keep comments on Twitter and other social media services, the Apple criticized then. This culminated today one of the most famous Apple stores in San Francisco at the Ellis / Stockton Street, in a typical demonstration for the United States. Unlike in Europe, where demonstrations are organized rather than flash mobs, where a group of 3 to several dozen activists build up in front of stores and gain there with signs and megaphones hearing.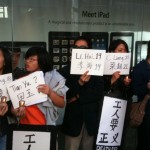 Under the title "I Want an iPad but at what costs?" Thereby organized the Chinese Progressive Association today such a demonstration. The demonstration distributed leaflets and held signs with phrases such as "Tell Apple you care" and with names of deceased employees high. It was also formed quickly in front of the Apple Store a group of onlookers who also photographed this demonstration the same. So much headwind for Apple is probably worth some residents and tourists a photo.
Under representation of iPads under the name "DeathPad" the CPA San Francisco drew attention to the working conditions at Foxconn. She pointed out that the daily working at Foxconn were be 12 hours and the all employees under age 25 are.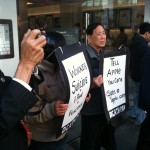 The organization explicitly called for having regard to the statements made by Steve Jobs, visitors to the Apple stores to support them. It was proposed to be issued at the Apple store iPads to use to send to sjobs@apple.com an e-mail to interact with the prompt on Foxconn to change the business practices and to promote the formation of democratically elected unions at Foxconn.
It should be mentioned here that the CPA the leaflet does not close with a maximum demand, but Apple tells:
Work with Foxconn to keep the factory open in China but Improve working conditions
It remains that even in front of company sizes are not immune to difficult situations by their own statements. Apple shows that with its dispute with Adobe and Steve Jobs public support of Foxconn too well, but it is and will certainly not be the only case. The PR consultant and crisis managers are likely to have been found in technology and Internet companies a new target group. ( FS )